Hello everyone, here is the next much-awaited top 5 list. From New York city on the eastern coast, we travelled far west to the city of Los Angeles. Now it is time to move North. The most populous city in the USA after New York and Los Angeles is none other than Chicago.
Chicago was an outpost around a military outpost and incorporated as a city in 1833. The nation's first 10-storey skyscraper was built here in 1884 and later demolished in 1931. That's history and now, let's get back to our top 5 famous foods in this city
This time we have two surprising inclusions in this list, both strictly not considered food items, more a snack/dessert but very close to the inhabitants of Chicago. Read on.
At No 5 is the Rainbow Cone
Chicago can surely claim a true dessert as one of their own creations namely -the Original Rainbow Cone which is just brilliant. It is a cake cone topped with chocolate, strawberry, vanilla with cherries and walnuts, pistachio, and orange sherbet- in that sequence. It's a summertime must-have dessert that's remained true to its origins since 1926 started by Joseph Sapp and his wife Kathrine in Chicago's Beverly neighbourhood. These are the only flavours that any customer would get and that too in that order. This has remained consistent over the last 100 years! So, indulge in this dessert when you are in Chicago and relive a part of Chicago history.
Next up on the list, at No 4, is the Garret Popcorn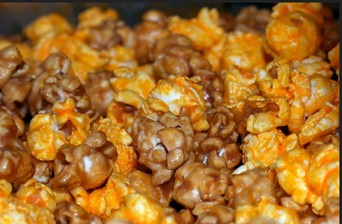 If you understand that popcorn is the dry kernels of corn that is roasted and served salted, then Garrett Popcorn is a revelation Garret popcorn started operations in 1949 and serves handmade, fresh, kettle popcorn. Their menu consists of plain popcorn to different flavoured popcorns for the adventurous. People love the Garrett mix as it blends the cheese with the sweetness of caramel. This famous Chicago popcorn consists of the flavours of both cheese and caramel. This sweet/salty combo has caught on with the customers and it has become something that you must have when you are in Chicago. It is so popular that this combo has crossed borders and is available in other countries and continents too.
When you're in Chicago, you must try it and see for yourself what the hype is all about.
At the middle of the pack, at No 3, is Chicago Hotdog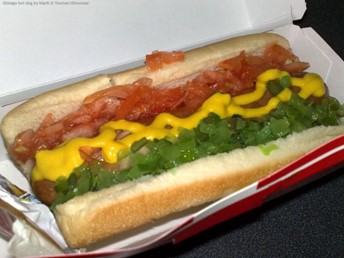 Chicago hot dog is a brand by itself. You can see them on T-shirts, posters, and stickers. It's been admired by Chefs like Grant Achatz, and Rick Bayless to name a few.
A typical hat dog is a beef frankfurter folded into a steamed sesame bun, topped with onions-chopped, tomatoes-sliced, peppers. Pickle is served along with it, and you can dip into this in between bites. Sprinkle mustard sauce not ketchup on top and enjoy the exclusive Chicago hot dog. Other than the deep-dish pizza, Chicago is best known for the hot dogs and there are variations like the char dog and Polish dog, but nothing close to the Chicago hot dog. A brief history of its origins.
Emil Reichel and Sam Ladany emigrated from Austria to Chicago during the World Columbian Exposition Fair in 1893 and sold their hot dogs by taking up a stall at the fair. They opened their first store the next year. The Great Depression during the 1930s made these hot dogs a staple food throughout Chicago. You can order it "all the way" and it will be made with steamed, beef frankfurters, topped with mustard, onions, peppers, tomato, and salt served on a poppy seed bun.
It is available at restaurants and street corners across the city. Chicago has an annual festival to celebrate it. The classic hot dog started as a cheap bite during the Depression for a nickel. While they may not be available for a nickel anymore, you can try the staple food available all over Chicago.
Some of the well-known places are Portillo's in the Loop, Jim's Original in Little Italy, and Red-hot Ranch. One of the oldest hot dog stands is the family-owned Dave's Red Hot which opened in 1938.
Fighting for the top spot, but being outclassed by the winner, settling for the No 2 spot is the Beef Sandwich
It's not a roast beef sandwich, nor is it a French dip sandwich. Chicago has given these classics a spin and created its version.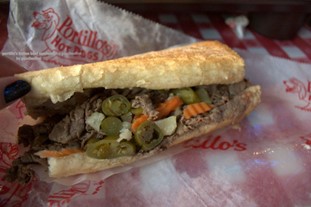 The beef sandwich was created during the Depression as people needed to make beef last further, at the dinner table or events. It is made with thin slices of roasted beef soaked in stock and layered on a thick loaf of bread to absorb all the juices; the beef sandwich is very delicious. The beef slices are topped with peppers with a mix of pickled vegetables.
At Al's, one can order the sandwich dry (with a touch of gravy), wet (extra gravy) or dipped (loaded with gravy). You can add a variety of cheese or spicy giardiniera. It is one of the most famous foods in Chicago. It is available at restaurants and food vendors across the city. It can be made at home by buying a handy DIY kit sold by Portillos
Deep-dish Pizza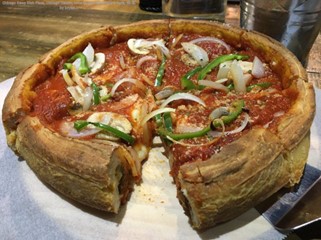 Of course, the universal favourite and making it to the top of the list by a long margin is the Deep-dish pizza It is the most famous Chicago dish of all time.
This is one of the food varieties you must have when you come to the city! Finally sink your teeth into a thick wedge of melted cheese, personalized toppings, and tangy tomato sauce. What is it that makes the deep-dish pizza so irresistible? It is the combination of the buttery crust, the melted cheese and the perfect tomato sauce. It is a combination that would make everyone's mouth water.
Lou Malnati's is considered the best place to have deep-dish pizza. It has a unique butter crust that is unique, and the entire aluminium pan is covered in a tasty pizza full of high-quality ingredients. There's normally a big wait here but you can get lucky if you visit late at night or visit early for lunch.
It is made by applying the dough hard against the bottom and sides of a round pan without handles. Next, a thick layer of cheese is applied to be followed by meat — usually sausage and finally other toppings. This is then repeated till it is topped with a thin, tomato sauce. It was popularised by Sewell and Ric Riccardo in the 1940s.
It becomes a hearty meal, with a thick crust that is baked in a pan that's normally filled to the top with cheese. It is further topped with a layer of tomato sauce. This is available all over Chicago but some of the most popular places are
Uno Pizzeria and Pizzeria Due in River North use their unique spice blend to make a sauce that is used as a topping on all their pizzas. Lou Malnati's Pizzeria is another restaurant. Here the pizzas are made with select ingredients like fresh mozzarella cheese Next on the list are the Giordano's, which doubles up on the crust and stuffs it with cheese.
Compare this with the New York Pizza or the Los Angeles Pizza to appreciate the local flavours and how it differs from each other.
To enjoy your visit to Chicago pair up your food tasting with pictures clicked and locate restaurants with iPhones. iPhones makes taking high-quality images and locating restaurants on its maps a pleasant experience. If you want to enjoy the factors of the iPhone without actually buying it, you can easily rent it from Dyal Rentals. The iPhones are delivered to your doorstep the same day you order. Don't miss out to enjoy your visit to Chicago with the high-quality iPhones and order them right now before you reach Chicago.