Lying at the shores of the Lake Michigan, the beautiful city of Chicago is one of the prime tourist destinations. With its exquisitely laid out natural beauty, interesting architecture, cultural attractions, beautiful art depictions, and rocking festivals, Chicago makes for a great vacation spot. There is a lot to explore and experience in the Windy City of Chicago that brims with life.
Upon landing in Chicago, you might get too overwhelmed seeing the exuberance of the artistic city. But do not let the feeling of awesomeness overtake you. Here we share with you the best places and experiences that are a must-visit while in Chicago.
Start your exploration with the Art Institute of Chicago, the second largest museum of USA. It has an impressive collection of artwork comprising of decorative arts, photography, sculpture etc., and is well known for its Impressionist and post-Impressionist paintings that can rival those in France. The surreal art collection will leave you awestruck.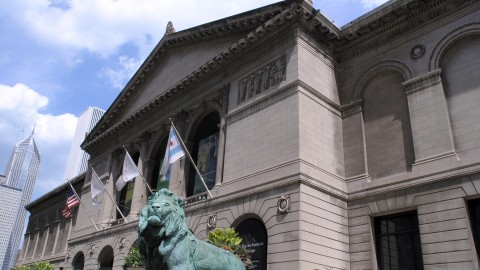 After a look at the art collection from the past, head out to explore the magnificence of the present. Take a look at the beauty of the Willis Tower, the tallest building of Chicago, you will have to bend your neck quite a bit to get a view of its top. Never mind, step in its elevator that takes you to the 103rd floor of the building in a jiffy. Head out to the observation deck with glass floors and enjoy a majestic view of the city while the wind roars in your ears.
Next on your visiting list should be the Millenium Park that stores some of the beautiful sights of the city. While strolling through it you will across a beautiful silver sculpture, the Cloud Gate by Anish Kapoor, the famous Crown Fountain, Pritzker Pavilion, and the McCormick Tribune Ice Rink. Also, do make a visit to the Laurie Gardens that bloom with prairie flowers and the BP bridge that provides beautiful skyline views.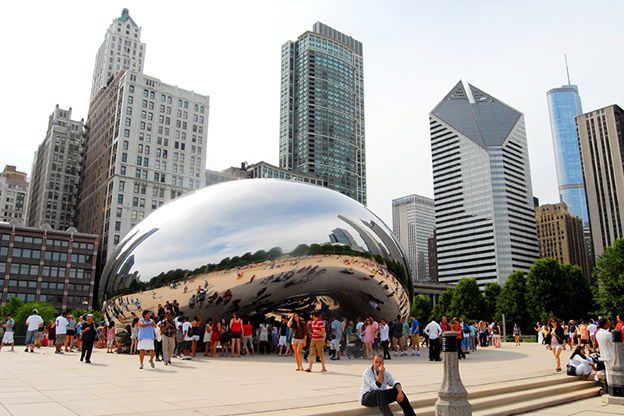 Experience the real charm of Chicago at Navy Pier, one of the most popular attractions of Chicago. Spread on an area of 50 acres, the pier consists of numerous shops, parks, gardens, restaurants, attractions, and concert venues where you can have some fun time. The place also has a Ferris wheel measuring up to 150 feet and providing panoramic views of the city.
Those who love architecture will be amazed by the wonderful Rookery building which is listed on the Register of National Historic Places. This 12 story building is quite famous for the intriguing ironwork on it staircase which is a gem of the craft.
After so much fun and exploration, you might want to rest a bit. If yes, then there can be no better place for relaxation than the Lincoln Park, which is the city's largest park. The wide stretch of greenery provides you serene tranquility away from the hustle and bustle of the city. This park also comprises of some other popular attractions like the Lincoln Park Zoo, Lincoln Park Conservatory, Chicago History Museum and Peggy Notebaert Nature Museum. Besides, there are displays of art on the park's ground as well.
There are many more beautiful locations in Chicago that give you an insight into the city's vibrant culture, have fun visiting them and make the most of your holiday. However, the fun will be incomplete without a camera that could save the wonderful memories of your trip. But don't worry, if you do not have a camera, then your smartphone can very well do the job. Such fun family trips happen once in a while; hence it is necessary to capture every memory in great detail. If your smartphone is not that efficient then you can rent an iPhone in Chicago. Wondering from where to rent an iPhone? There are several iPhone rentals in Chicago of which Dyal rental is the most trusted one. It can provide you with an apt smartphone with a high-quality camera and other photo apps that capture the best photos and videos. Being in iPhone rental business for long, Dyal rentals provide you with the best iPhone rental deals. You get some of the best iPhone rental options at cost-effective prices.
iPhone rental in Chicago is a feasible option. You will be visiting so many places in Chicago that are known for their resplendent beauty and charm. Certainly, you will be disappointed if you will not be able to click some beautiful pictures of your tour to save them in your memory lane, your smartphone may not provide you that clarity and precision; hence iPhones can be a great option.
It is not possible for everyone to keep an iPhone and that too the latest versions which come loaded with exclusive and smart features. So, what is the way out? Choose Chicago iPhone rental services by Dyal Rentals that provides you with reasonable iPhone rental deals with flexible options to choose from. Dyal rental lets you choose between the daily, weekly and monthly rent options available. While daily option can be a bit expensive you can choose for iPhone rental in Chicago on a weekly or monthly basis and save yourself a lot of money.
Chicago iPhone rental provides you with the best and the latest iPhone versions at affordable prices. Contact Dyal rental, pick your iPhone (from 5s to iPhone Xs Max all are covered), choose a data plan that can be activated before the phone is shipped (you can get them without data plan too), the rent payment method (daily, weekly or monthly) and you are done. iPhone rental had never been so easy. Not only for vacations but renting an iPhone is quite a good option for business trips that can save you from International roaming costs or the hassle of buying a new sim card and changing it which is a less viable option as at present many smartphones come with a sim lock feature.
Dyal Rental makes your trips easy, memorable and eventful. Renting a smartphone had never been that easy and breezy. You get iPhones at the best prices so why bear the unwanted expenses or compromise with your memories. Choose Dyal Rental your one stop shop for iPhone renting. If you are visiting Chicago and need a smartphone, then you know where you will get the best deals.