True to its annual tradition of bringing up a new model every year, Apple has launched the iPhone 14 Pro Max model, its top-end iPhone for the current year. In a market, that's full of me too products and where there is very little differentiation in the features of the mobile device, Apple manages to keep its leadership intact by coming up with new, enhanced features that the competition takes the full year to catch up.
So let us have a look at what is new in this year's model
A new way to interact with the device -Dynamic Island.
An innovative 48 MP camera
Enhanced security features
A brand new in-house designed mobile chip.
Always on display feature.
It is available in four unique colours – deep purple, gold, silver and space black. It uses a special protective glass named ceramic shield, by Apple, that is even tougher than before and offers excellent scratch protection and drop resistance.
Apple introduces a new innovative Dynamic Island, at the top of the smartphone which is unobtrusive, discreet and flashes chosen messages. It does not disturb what you are doing but at the same time makes you aware of important notifications so that you can look them up if you choose to do so.
The display is always on without draining your phone so that you do not have to tap the phone to wake it up. It goes dark only when you place it face down to save the battery from the little bit of power it draws to keep it alight.
The latest OS iOS16 lets you customise your fonts, widgets, and many other features of the phone. It enables you to track your activity as well as view the live updates from your apps.
The super Retina XDR display is bright even in direct sunlight so that you do not have to struggle to view your phone even bright outdoors.
It has a built-in feature of crash alert that automatically dials up emergency services as well as informs your emergency contacts.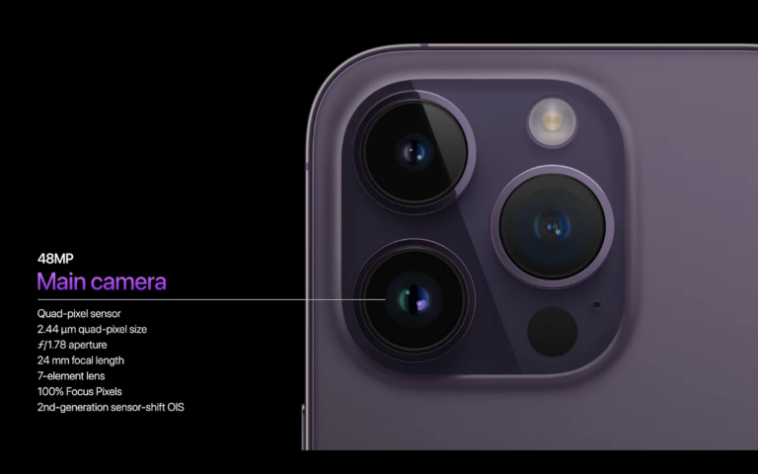 The main camera is a brand new 48X quad pixel sensor. What does this mean for the layman? Well, suffice it to say that there is a distinct clarity in the picture quality. What is especially admirable is the low-light quality which is amazing. You must try it out to understand the difference. Want to try it out first? Now you can. See what's on offer at the end.
The camera is especially well suited to capture pictures in low light with a clarity that s amazing, to say the least. The camera sensor is larger capturing more details and delivering minute details even with 4X resolution cropping. Besides this there is an Ultra-wide lens to capture the full background as well as a telephoto lens, with a 2X optical zoom, to capture with clarity the long-range pictures.
The video can be shot at 24 frames per second in 4K HDR the industry standard for videos. It also offers for the first time the option to edit the depth effect after the capture. All this on a mobile camera which can be found only in high-end professional cameras.
You can confidently record videos while on the move and the camera automatically adjusts for the shake, jitteriness, the stutter to give you a smooth amazing video that even you could not have taken with a professional camera.
The same camera is truly amazing for closeups as well thanks to the true depth camera as well as group shots due to its larger aperture.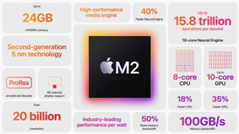 The power and the brain behind it all are the brand new A16 Bionic chip that has so many features packed into it to make your life more enjoyable. It enables you to extend your battery life by reducing power consumption.
Apple has always considered security and privacy as its prime responsibility and this phone is no less secure. It has the new FaceID feature which is the most secure facial authentication ever. It protects your private data, contacts etc with multi-layer security living up to the standards Apple has been well known for. It has many such safety features such as passkeys, locked and hidden albums, safety checks, Apps verification, mail privacy protection, protection from malware automatically, to name a few.
With so much on offer, how much would you like to try out the new Apple for yourself? The entry-level iPhone 14 starts at USD 999 and goes all the way to USD 1499.
But you have a choice to try out the new features and convince yourself at a fraction of the price you would pay for a new phone.
How? Here's how
Just click on this link and rent out an iPhone 14 for a fixed duration by paying a nominal deposit and the rental charges. Your phone would be delivered the same day or surely the next day by courier to the address of your choosing. Once the rental period is complete you can ship it back and collect your deposit back.
So what are you waiting for? Do not take our word for it.
Rent it out, and check out the features of the new iPhone 4 Pro Max for yourself at a nominal cost.
Book your iPhone for a rental by clicking on this link and following the instructions therein.
Be sure to share your feedback on its performance with us and social media.
Of course, drop in your feedback on our service offering to help us improve our offering and spread the word on social media about our unique proposition.