One of the world's top-rated multicultural cities, New York City is not only renowned for its impressive skyline but also for its exemplary art museums. It is 'The City That Never Sleeps' where you have innumerable opportunities just for recreation. Iconic public parks, never-ending shopping neighbourhoods, eminent theatres and the diversified gastronomic scene are few reasons why it is also considered America's cultural capital.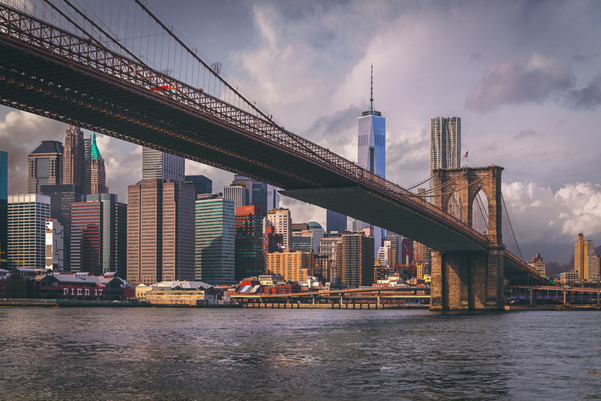 If you are setting out to explore this bustling metropolis for the first time, you can rest assured that it will be memorable. With abundant camera-friendly locations around every corner – for which, you have Instagram to thank for – you would be sharing the best of your experience with the entire world and perhaps, even become the next globetrotting celeb. Below we have enlisted 7 Insta-worthy hotspots in New York City that are just a tap away from you:
Located in Manhattan, one of the five boroughs of the city, this 840-acre urban park remains the most visited historical landmark. While you will see tourists and locals strolling in leisure during early mornings here, head up to Bethesda Terrace, located at the park's northern end. Panoramic views of the Central Park Lake along with the reflection of surrounding trees here would blow your mind. What you can't miss out on posting on your Instagram page is the remarkable Bethesda Fountain on the lower terrace. Its neo-classical bronze sculpture, Angel of the Waters, will be an amazing backdrop. Another prized attraction for some memorable Instagram shots is Bow Bridge, situated towards the west from Bethesda Terrace. This magnificent cast-iron bridge is a great spot to capture the park's trees with Fifth Avenue's stunning skyline as the backdrop.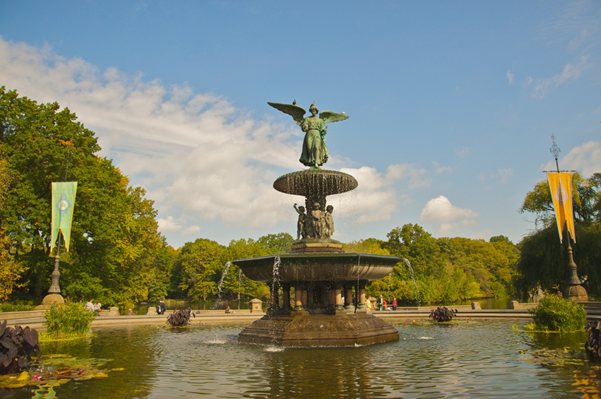 This iconic building in triangular shape has been a popular photogenic spot ever since it was built in the early 20th century. Located at the crossing between Fifth Avenue and Broadway at Midtown Manhattan, the crowd and cars never stop moving around it. As it can get a tad difficult to take a good shot due to the rush, come here around the early morning. To capture both sides of this outstanding 22-storeyed structure, Madison Square Park is also a good vantage point.
If street photography interests you, visit Times Square, situated at the intersection of 42nd Street, Broadway and Seventh Avenue. Scattered with numerous shops, billboards, and street artists who will draw your caricature, you will get a glimpse of the true essence of New York here. You cannot miss the red stairs above the TKTS booth where you can walk up and try out your photography skills. For some unforgettable pics, come around early evening and capture the vibe.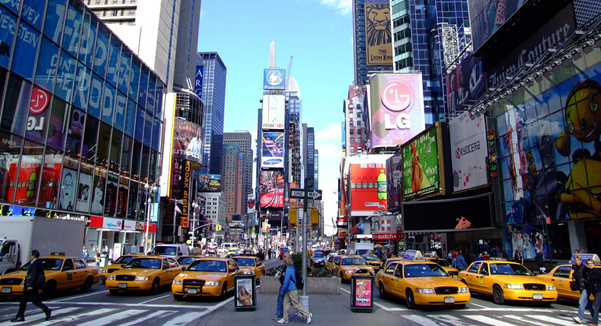 This historic bridge over the city's East River connects the two boroughs, Brooklyn and Manhattan. Noted for its neo-Gothic towers with arches along with steel cables, it will take around half-an-hour to reach either side. While you can try walking on the pedestrian zone during early sunrise and click some amazing pics, you will also get some phenomenal shots during sunset. Ask someone to take your pic when you are walking towards Manhattan. In this way, the soaring skyscrapers of Manhattan would be a fantastic backdrop.
Built in the architectural style of Beaux-style, this enclosed structure is located on 42nd Street. At its southern entrance, the massive statues of Hercules, Mercury and Minerva over the large Tiffany Clock will leave you spellbound. When inside the large entrance hall, you will see paintings of constellations on the ceiling. You are free to take pictures anywhere inside. Capturing natural light passing through the giant arched windows would be challenging, but it is certainly worth the effort. As over 750,000 people commute through this terminal on a daily average, you can take some brilliant shots at night from the upper floor, when there is a fewer crowd.
Undeniably the most recognised skyscrapers in the world, this Art-Deco structure is about 381 metres tall. While its main observation deck is on the 86th floor offering stunning views of Brooklyn Bridge, East River, Hudson River and some parts of Central Park, you should go up to the observation deck on 102nd floor. From here, you can get panoramic views of the entire Central Park as well as the city's complete skyline. At the lobby level, you can also sate your appetite at any of the restaurants.
Situated in Manhattan, SoHo is every shopper's haven. Visit famed Greene Street here. Designer stores across cobblestone paths along with architecturally rich structures would be a fantastic addition to your Instagram profile.
Why you should rent an iPhone in New York City
To get the best photographs during your outstation holiday, you should first consider about not compromising on picture quality. While you may be carrying your Android smartphone with you along the journey, you also may not be sure if its camera is that great. iPhones, on the other hand, are known for their camera quality that beat most cameras of mid-ranged Android smartphones. However, an iPhone is not cheap and it can set you back around USD 1000. If this is not under your current travelling budget, you can choose to rent iPhones.
If New York is on your holiday list, you can easily opt for Dyal Rental services in this city. Not only can you rent the latest iPhone version, but also choose from a range of various payment options. Whether you want to rent an iPhone on a daily, weekly or monthly basis, you can also choose a data plan for the specific one. This data plan is added before your iPhone is shipped to you, and it saves you from paying an exorbitant international roaming bill. Renting iPhones from Dyal rental services in New York will be much more affordable and its shipping would be prompt.